Recommendations for testing or adjusting the T-LCM Pedals
---
Related informations :
KB : 1734
Language : EN
Date : 2023-07-09
Category :
Tag :
Related products :

Product:
T-LCM Pedals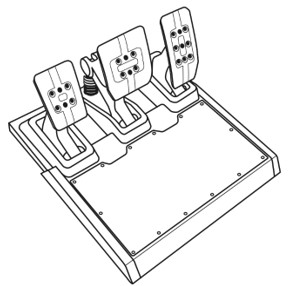 System requirements: PC with Windows® 10 or higher

Make sure your PC has the latest driver for your racing wheel.
If necessary, you can find the link to the latest DRIVERS FORCE FEEDBACK driver in the Driver section on your racing wheel's page:
1) T-LCM Calibration Software :

This software is designed to adjust the T-LCM Pedals and test the pedal axes. You can download it from our site, in the Software section.
https://support.thrustmaster.com/product/t-lcm-pedals/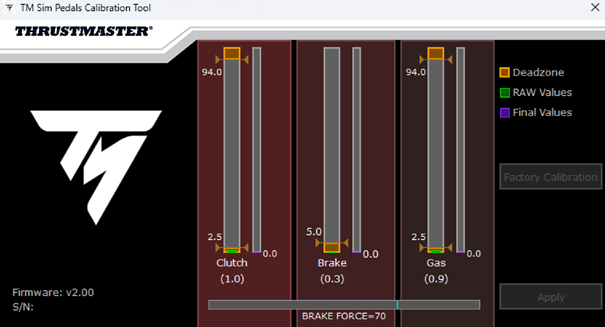 Important:
The T-LCM Pedals must only be connected to the PC via the USB cable for it to be supported by the T-LCM Calibration Software.


We recommend that you avoid connecting the pedal with both its cables at the same time. You will need to fully disconnect the RJ12 cable while using the USB cable.








The T-LCM Calibration Software lets you perform the following actions:
Manually adjust and calibrate the pedals:
- Test the pedal axes

The T-LCM Calibration Software also lets you view useful data:
- Software version installed (Firmware)
- Pedal set serial number

Note :
All adjustments made on the T-LCM Pedals with the T-LCM Calibration Software will be saved in the pedal set. This will allow them to be applied to another gaming platform (PC or console).


2) Windows Control Panel

This tool is useful for testing the

T-LCM Pedals when connected to the racing wheel base with the RJ12 connector.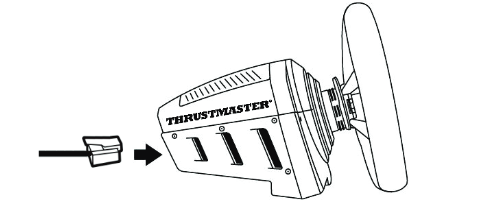 You will need to open the racing wheel base's control panel. You will then have access to the section dedicated to the pedals you connected.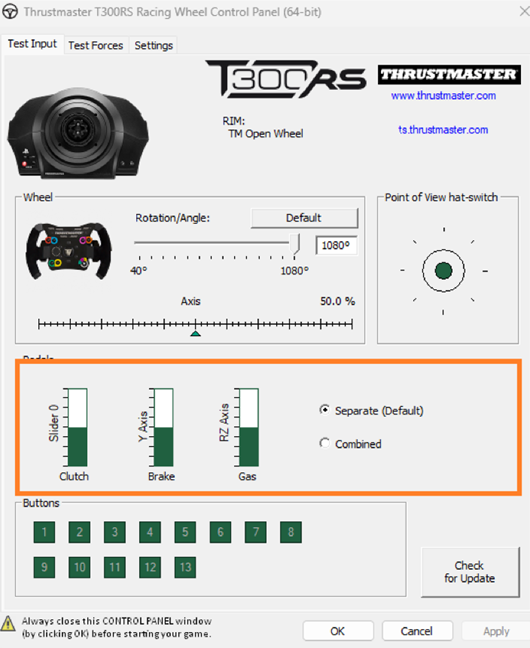 The Control Panel enables you to perform the following action:
- Test pedal axes

Important :


We recommend that you avoid connecting the pedal set with both its cables at the same time. You will therefore need to fully disconnect the USB cable while using the RJ12 cable.


If you wish to make adjustments to your T-LCM Pedals, we strongly recommend that you run the T-LCM Calibration Software (see section above).


3) Using the software

The T-LCM Calibration Software and Windows Control Panel can only be used on a PC with Windows® 10 or higher.

Important:
When using any of these tools, only one software program must be running at a time.
- Before opening the Windows Control Panel, make sure the T-LCM Calibration Software and your game are closed.
- Before using the T-LCM Calibration Software, make sure the Windows Control Panel and your game are closed.
- Before starting your game, make sure the Windows Control Panel and the T-LCM Calibration Software are closed.


For more information on our recommended connections for the T-LCM Pedals, please refer to the following article:
Recommended connections for using the T-LCM Pedals
---