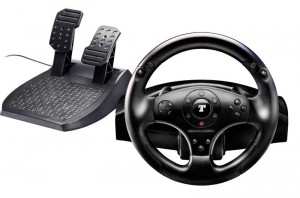 T100 Force Feedback Racing Wheel
Product number : 4069006 4060051 4068007
Manual
Drivers
| | | | | |
| --- | --- | --- | --- | --- |
| | Unified Drivers Package - 2018.FFD.2 | PC | Windows 10 - Windows 7 - Windows 8 | |
| | Release notes | | Windows 10 - Windows 7 - Windows 8 | |
Licenses
| | |
| --- | --- |
| | Immersion® - Incorporates sofware licensed from Immersion Corporation. |
| | Produced under license of Ferrari Brand S.p.A. The name FERRARI, the PRANCING HORSE device, all associated logos and distinctive designs are property of Ferrari S.p.A. The body designs of the Ferrari cars are protected as Ferrari S.p.A. property under design, trademark and trade dress regulations. |
Knowledge base
Force Feedback settings explanation

22-11-2022 -   CONSTANT: A constant force will keep the same level in time. When a game decides to apply a force of x% of what the wheel can do, the "Constant" will keep that force at the same l...

Test in english

22-11-2022 - This article is a test made by our company. It will be deleted soon.Thank you  ...